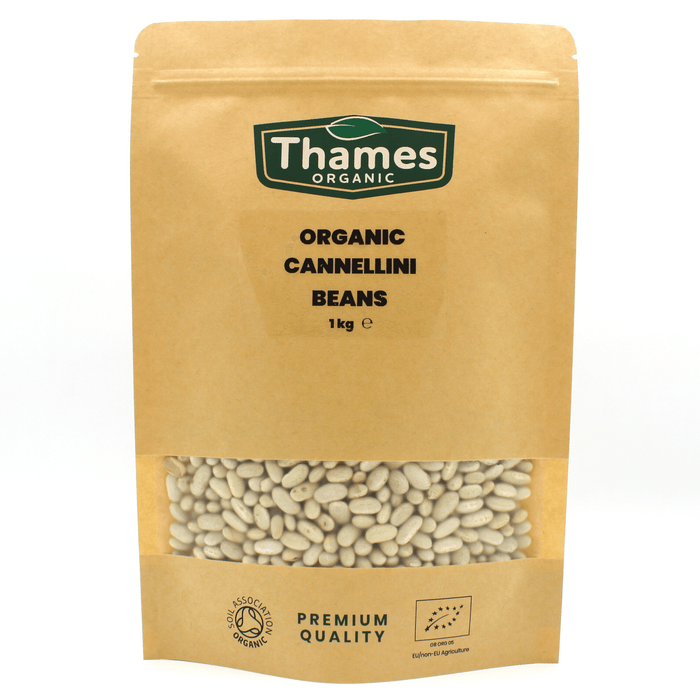 Organic Cannellini Beans
Original price
£4.49
-
Original price
£6.49
Cannellini Beans or The kidney bean is a variety of the common bean (Phaseolus vulgaris). It is named for its visual resemblance in shape and – for the red variety – colour to a human kidney. Red kidney beans should not be confused with other red beans, such as adzuki beans.
White kidney bean (also known as cannellini in Italy, lobia in India, or safaid (white) lobia in Pakistan)
Cannellini beans, also known as white kidney beans, are the white variety of kidney bean. They have a starchy flavour, creamy texture, and cook fairly quickly. They are often used in salads, soups, and casseroles.
Organic Cannellini Beans are white in colour and kidney-shaped, with a creamy texture and delicate flavour.
Discover Thames Organic's Organic Cannellini Beans – a versatile and delightful addition to your kitchen, perfect for a variety of culinary preferences. Whether you're a vegan, vegetarian, or follow a plant-based, specific dietary plan, these premium cannellini beans are a must-have. Sourced sustainably from the finest organic crops, they offer a creamy and mild flavor that enhances your favorite recipes. Use them as a protein-rich and nutritious base for soups, salads, or pasta dishes, or mash them into delicious spreads and dips. Embrace the natural goodness of Thames Organic's Cannellini Beans and elevate your cooking with this wholesome and eco-conscious choice.
Cannellini beans are versatile, protein-packed beans that can be used in salads, on toast, or as a crostini topping. The beans are high in fibre, potassium and iron, and are a great source of plant-based protein.
The cannellini bean is a pale, kidney-shaped bean of the legume family. Cannellini beans or kidney beans are a great source of plant-based protein and fibre. They have a mild flavour and creamy texture, making them a good addition to soups and stews.
Our organic cannellini beans are a top-quality, boiled legume that is sourced from Italian crops. These long, white legumes are an excellent source of vegetable protein and are perfect for adding to minestrone, soups, and salads. Our beans are grown using sustainable farming practices and are never treated with chemicals or synthetic products.
The beans in question are almost cylindrical in shape and feature a white colour. They are quite convenient to use as they have already been cooked, making them ideal for use in soups and salads. Additionally, they are packed with fibre. Cannellini beans are excellent with small pasta, to which extra virgin olive oil and basil are added: the famous Italian pasta e fagioli (pasta and beans).
We take great care in choosing our organic cannellini beans, hand-picking them at the optimal level of ripeness to ensure they are bursting with flavour and nutrients. We handle them with care during processing to maintain their natural qualities and preserve their unique shape and texture.