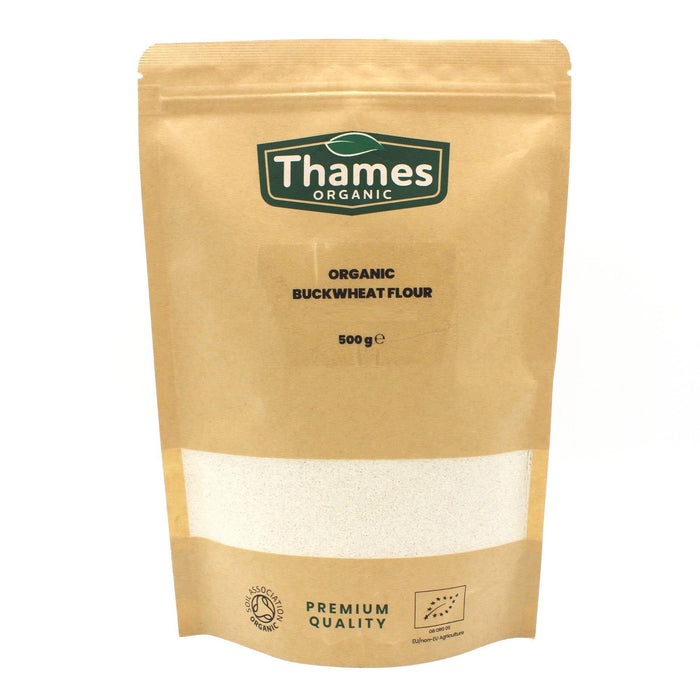 Organic Buckwheat Flour
Original price
£3.99
-
Original price
£6.99
Organic Buckwheat Flour by Thames Organic Ltd. Organically grown in Poland and packed in the UK. Buckwheat flour is a alternative to wheat flour. It is a versatile grain, and the flour it produces is particularly good for making pancakes and scones.
Thames Organic's Soil Association Licence number is DA30314.
Nutrition Value Per 100g:Energy 339 kcal, Protein 15.3g, Carbohydrate 63.6g, Of Which Sugar 1.46, Fat 1.7g, Of Which Saturates 0.38g, Fibre 4.1g, Salt 0.147mg.

Allergen Information: Packed on premises that handles nuts, seeds, cereals, soya & products containing gluten.
Additional Information: Vegetarian  Vegan  Organic 
About
Buckwheat groats are the small angular seeds of the buckwheat plant. Often mistaken for a cereal grain, this cousin of rhubarb isn't actually related to wheat. The word "groats'' refers to seeds that have been dehulled; Typically, groats are more easily digested than whole seeds. Native to Asia and later introduced to Europe, the buckwheat plant has been an important food source since the 6th century BC. When it took hold in Southeast Asia before spreading to Central Asia, the Middle East and finally Europe. Buckwheat found its way to the New World through European explorers and colonists, and now this hardy herb grows on almost every continent where Russia and China are leaders in production.
Buckwheat groats are the whole, husked form of buckwheat. They are perfect for use in salads, stuffing and pilafs. Perhaps the most well-known method of preparing buckwheat groats is in the form of porridge. Called "kasha" by Russian and Polish peasants who brought it to the United States, the dish was served with pasta or used as a dough and blintze filling. Buckwheat contains higher levels of the essential minerals copper, iron, zinc, potassium and manganese than any other cereal grain. It is also rich in protein and amino acids, including lysine, as well as soluble fiber, which helps slow down the rate of glucose absorption, thereby helping to regulate blood sugar levels. Buckwheat also contains a phytochemical called rutin, which strengthens capillaries.
Benefits
 a good source of fiber

Rich in minerals and various plant compounds, especially rutin.

Richer in minerals than many common cereals

Rich in various antioxidant plant compounds
Dietary Information
Discover Thames Organic's Organic Buckwheat Flour – a versatile and delightful addition to your kitchen, perfect for a variety of culinary preferences. Whether you're a vegan, vegetarian, or follow a plant-based, specific dietary plan, this premium buckwheat flour is a must-have. Sourced sustainably from the finest organic buckwheat grains, it offers a nutty and earthy flavor that enhances your favorite recipes. Use it as a wholesome and nutritious alternative in baking, or create delectable pancakes and noodles for a delightful meal. Embrace the natural goodness of Thames Organic's Buckwheat Flour and elevate your cooking with this wholesome and eco-conscious choice.
Usage
Organic buckwheat flour is a versatile flour that can be used in breads, cakes and pancakes for a alternative to traditional wheat based flours.
Ingredients
Organic Buckwheat Flour 
Allergen Information
Packed on premises that handle gluten, tree nuts, sesame, soya, peanuts.
Storage
For optimum freshness keep in a cool place away from moisture and direct sunlight.  
Storage Instructions
Keep in an airtight sealed container in a cool, dark and dry location. Can be refrigerated or frozen (in an airtight container) to extend the shelf life. Store in a tightly sealed bag or container.