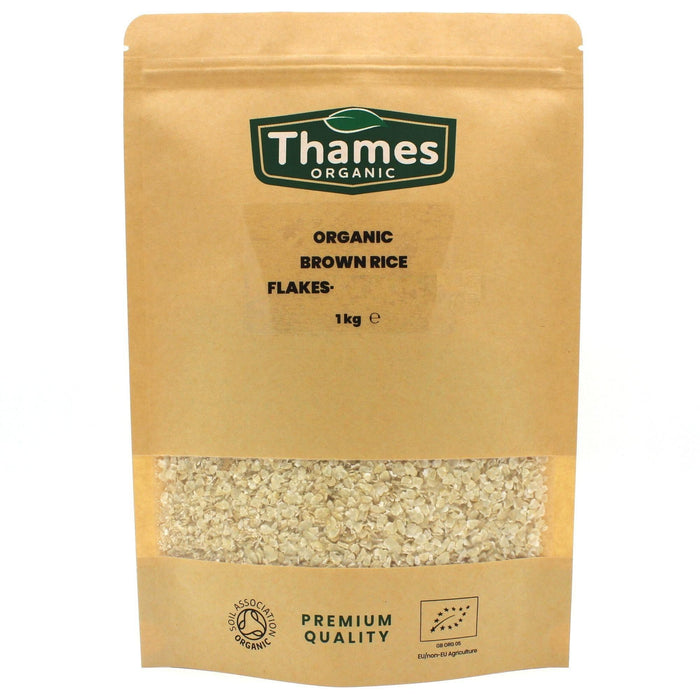 Organic Brown Rice Flakes
Looking for a sustainable alternative to traditional cereal grains? Look no further than our organic brown rice flakes!
Made from 100% organic whole grain brown rice, our flakes are grown and harvested sustainably to protect the environment and ensure the highest quality product. With no additives or preservatives, these flakes are non-GMO and vegan-friendly, making them a great choice for those who are looking for natural and ethical food options.
But don't let their wholesome nature fool you - these flakes are packed with nutrients and flavor, making them a delicious addition to any meal or snack. And with their low glycemic index and good source of complex carbohydrates and dietary fiber, they provide sustained energy and support digestive satiety
But the benefits don't stop there - these flakes are also incredibly versatile and easy to use. Enjoy them on their own as a crunchy snack, or add them to oatmeal, smoothies, or baked goods for extra texture and nutrition. The possibilities are endless! 
So why wait? Try our organic brown rice flakes today and discover the ultimate sustainable choice for all your breakfast, snacking, and baking needs.
Discover Thames Organic's Organic Brown Rice Flakes – a versatile and delightful addition to your kitchen, perfect for a variety of culinary preferences. Whether you're a vegan, vegetarian, or follow a plant-based, specific dietary plan, these premium brown rice flakes are a must-have. Sourced sustainably from the finest organic brown rice, they offer a delicate and nutty flavor that enhances your favorite recipes. Use them as a nutritious alternative in breakfast cereals, porridge, or granola, or incorporate them into baking for a wholesome twist. Embrace the natural goodness of Thames Organic's Brown Rice Flakes and elevate your cooking with this wholesome and eco-conscious choice.
An excellent source of nutrition, these Organic Brown Rice Flakes are naturally high in protein and vitamins B6, B3 (niacin), E and D. They are also a good source of healthy fibre providing digestive tract health and support.
Our Organic Brown Rice Flakes are a nutritious and tasty addition to any meal. Made from whole grain brown rice, these flakes are a great source of fibre and nutrients, including protein, iron, and B vitamins.
Our Organic Brown Rice Flakes are made with only the highest quality, organic ingredients and are free from any additives or preservatives. They are also non-GMO and gluten-free, making them suitable for a variety of dietary needs.
In addition to their nutritious content, our Organic Brown Rice Flakes have a mild, nutty flavour and a light, crispy texture. They are a great base for grain bowls, a flavorful addition to soups and stews, or a tasty topping for smoothie bowls and yoghurt.
Use our Organic Brown Rice Flakes in a variety of dishes, or enjoy them as a tasty snack on their own. With their delicious flavour and nourishing ingredients, our Organic Brown Rice Flakes are a must-have in any home kitchen.
Organic Brown Rice Flakes are unique cereal flakes made from 100% whole grain brown rice. They have all the taste and nutrition of whole grain rice, but with a light and crispy texture.

Organic brown rice flakes are made from fresh, certified organic brown rice. They can be eaten plain as a great snack or mixed with other cereals and fruits. Simply soak and add your favorite sweetener or top with sliced bananas and nuts.

Organic Brown Rice Flakes are nutritious, delicious, convenient and versatile. These crispy flakes can be enjoyed plain as a snack or mixed with other cereals and fruits. They can be soaked in soymilk, rice milk or any warm liquid to make a tasty, warm cereal.

Brown Rice Flakes make a great addition to your diet. These crisp flakes are low in fat and high in fibre. Sprinkle the flaked rice on salads, soup, cereal or yogurt for extra crunch. They also make a delicious breakfast cereal when served with fruit, granola and soy milk..