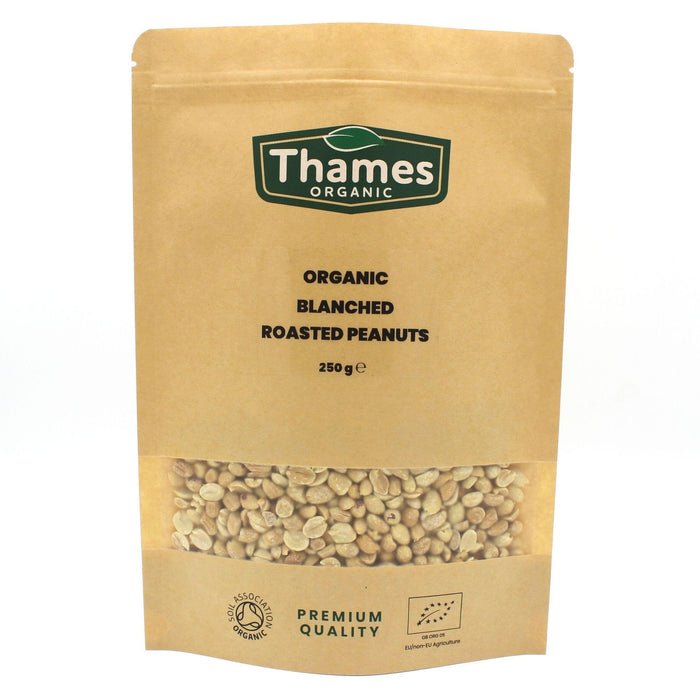 Organic Blanched Roasted Peanuts
Original price
£3.99
-
Original price
£10.49
Peanut is also known as groundnuts that are a legume to South America with about over 70 species. Organic Blanched Roasted Peanuts is a standard nut that is saturated with fatty and organic acids since their kernels have valuable elements. It contains vitamins A, D, group B, and PP.

Organic Blanched Roasted Peanut is rich in vitamin PP - about 90% of the body's daily requirement is achieved with 100 g of nuts. It also contains many trace minerals such as magnesium, potassium, and phosphorus. Roasted peanuts contain 35% of the daily value of proteins and 50% of fat, which is in the complete absence of cholesterol.
Discover Thames Organic's Organic Blanched Roasted Peanuts – a versatile and delightful addition to your kitchen, perfect for a variety of culinary preferences. Whether you're a vegan, vegetarian, or follow a plant-based, specific dietary plan, these premium blanched roasted peanuts are a must-have. Sourced sustainably from the finest organic peanuts, they offer a rich and nutty flavor that enhances your favorite recipes. Use them as a protein-packed and savory snack on their own, or add them to salads, stir-fries, or noodle dishes for a delightful crunch. Embrace the natural goodness of Thames Organic's Blanched Roasted Peanuts and elevate your cooking with this wholesome and eco-conscious choice.

Why does Blanched Roasted Peanuts seem different?

The appearance of the Blanched Roasted Peanuts may differ from the images, as it shows a different look in images. Experts classify Organic Blanched Roasted Peanuts as antioxidant foods because of amino acid tryptophan. 

Organic Blanched Roasted Peanuts by Thames Organic Ltd. Organically grown in Egypt. Packed in the UK. 
Allergen Information: Packed on premises that handles nuts, seeds, cereals, soya & products containing gluten. 
Thames Organic's products are certified as organic by the UK's Soil Association 
(Soil Association licence no. DA30314)
Organic Blanched Roasted Peanuts:
Organic blanched peanuts have a slightly soft texture and no shells. Blanched peanuts are great for baking (they're great for making peanut butter). Depending on what you're using the nuts for, redskin peanuts can be tricky to cook with. The skins often turn very flaky when cooked and you may find yourself constantly having to pick out the skins for appearance purposes. That's why the smooth, clean blanched peanut can be invaluable in the kitchen.