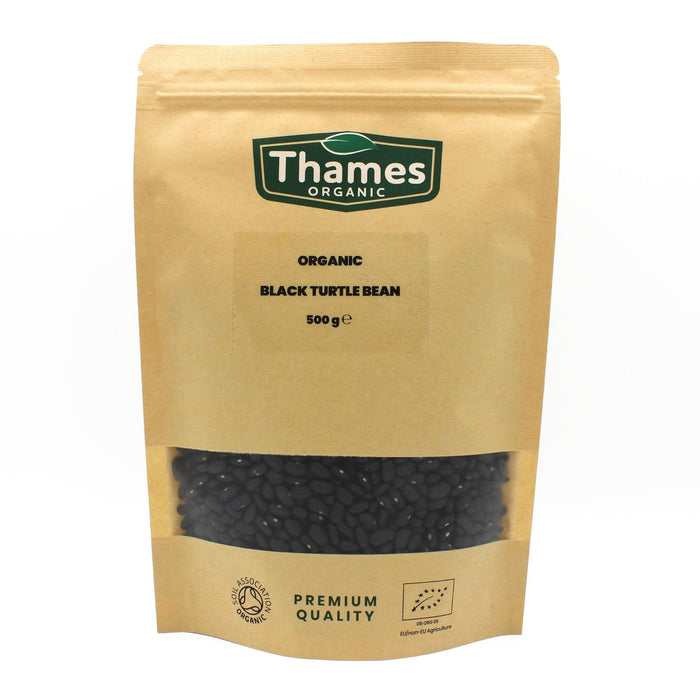 Organic Black Turtle Beans
Original price
£3.99
-
Original price
£5.49
Get ready to discover the ultimate superfood legume that is both delicious and nutritious - organic black turtle beans! These creamy and flavorful beans are a delicious addition to any meal and are packed with a variety of essential nutrients.
Our organic black turtle beans are grown using sustainable and ethical methods, ensuring the highest quality product. No synthetic pesticides or fertilizers are used in the growing process, making our beans not only good for your body, but also good for the environment. These beans are also minimally processed, so you can be sure you're getting a pure, natural product.
Not only are these beans delicious, they are also incredibly nutritious. They are a rich source of protein, fiber, and a variety of essential vitamins and minerals. They are also naturally low in fat and calories, making them a nutritious and tasty addition to any diet. Plus, their creamy texture and nutty flavor make them a unique addition to any meal.
Discover Thames Organic's Organic Black Turtle Beans – a versatile and delightful addition to your kitchen, perfect for a variety of culinary preferences. Whether you're a vegan, vegetarian, or follow a plant-based, specific dietary plan, these premium black turtle beans are a must-have. Sourced sustainably from the finest organic crops, they offer a rich and earthy flavor that enhances your favorite recipes. Use them as a protein-packed and nutritious base for soups, stews, or salads, or blend them into creamy dips and spreads. Embrace the natural goodness of Thames Organic's Black Turtle Beans and elevate your cooking with this wholesome and eco-conscious choice.
Our organic black turtle beans are incredibly versatile and can be used in a variety of dishes. They can be cooked and eaten as a side dish, or they can be used in soups, stews, and chili for a creamy and flavorful boost. They can also be mashed and used as a topping for tacos and burritos, or they can be ground into flour and used to make homemade pasta, bread, and pastries. The possibilities are endless!
Don't miss out on the numerous benefits of organic black turtle beans. Start incorporating them into your meals and snacks today and discover a new superfood legume that is both tasty and good for you!
Organic Black Turtle Beans are one of the most popular ingredients in Indian cuisine and Latin American. Dishes such as Black Beans, Gallo Pinto, and Maa Ki Dal are the favorites of many specialized restaurants around the planet and commercial brands from their countries.

Turtle Beans is helpful to allow you to enjoy the delicious taste of this incredible food as well as the health benefits it offers. However, these beans provide a wide range of essential nutrients for the human body, for instance, protein, dietary fiber, iron, magnesium, B vitamins, potassium.
Why is Organic Black Turtle Beans beneficial for us?

Indeed, beans variety is unpretentious and fruitful. On the other hand, the grains are small, bluish-black, slightly rough due to a light waxy coating.

Black Turtle Beans, most commonly known as black beans, they are small, black and shiny. They have an almost mushroom-like flavour, hold their shape well when cooked and absorb flavours well. Black Bean Facts Native to South America, Black Turtle Beans are an integral ingredient in Latin American dishes. Black beans are also a delicious and nutritious addition to quesadillas, egg dishes, and make hearty, healthy black bean burgers.
It's packed with phytonutrients, soluble and insoluble dietary fiber and protein.

Beans are cholesterol-free and contain no saturated fat.
Black beans are classified as legumes. Dark beans, otherwise called turtle beans, are really consumable seeds of the plant. Dark Turtle is more than straightforward, solid dried beans. Dark beans are high in protein and fiber. Black turtle beans are delicious and have a distinctive flavor! It is also particularly nutritious, the dark purple color of beans indicates high anthocyanin content. In fact, according to a recent study, these beans contain more anthocyanins than any other beans, which makes them extremely high in these antioxidant phytonutrients.

Like different vegetables such as peanuts, peas and lentils, dark beans are applauded for their high protein and fiber content. Likewise, they contain several important nutrients and minerals that are advantageous for human well-being.
Thames Organic's Soil Association Licence number is DA30314.