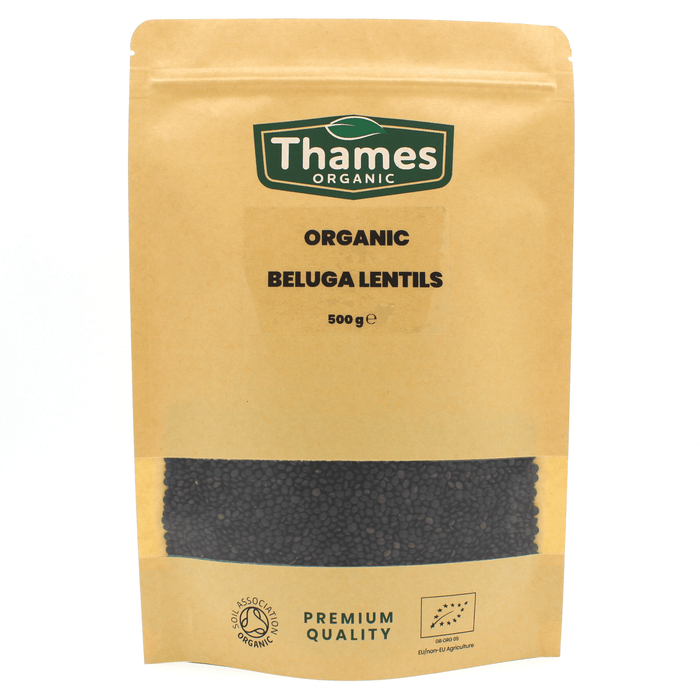 Organic Beluga Lentils
Original price
£4.99
-
Original price
£7.49
Welcome to our Organic Beluga Lentils! These small, black lentils have a rich history and are prized for their unique flavor and numerous benefits.
Lentils are a type of pulse, a group of crops that includes beans, peas, and chickpeas. They are native to the Middle East and South Asia and have been a dietary staple in many cultures around the world for centuries.
Our Organic Beluga Lentils are sourced from eco-friendly farms that are committed to sustainable and ethical farming practices. They are grown without the use of synthetic pesticides or fertilizers, making them a safe choice for you and the environment.
Beluga lentils get their name from their small size and black color, which is reminiscent of beluga caviar. They have a slightly nutty flavor and a firm, slightly chewy texture when cooked. They are commonly used in soups, stews, and salads and can also be used as a topping for grain bowls or as a replacement for meat in vegetarian and vegan dishes.
In addition to their delicious taste, beluga lentils are a nutritional powerhouse. They are a good source of protein, fiber, and important minerals such as iron, potassium, and folate. They are also low in fat and calories, making them a great choice for those looking to maintain weight.
Beluga lentils are also vegan and GMO-free, making them suitable for a variety of dietary needs. Plus, they are easy to prepare and cook quickly, making them a convenient choice for busy home cooks.
Discover Thames Organic's Organic Beluga Lentils – a versatile and delightful addition to your kitchen, perfect for a variety of culinary preferences. Whether you're a vegan, vegetarian, or follow a plant-based, specific dietary plan, these premium beluga lentils are a must-have. Sourced sustainably from the finest organic lentil crops, they offer a rich and earthy flavor that enhances your favorite recipes. Use them as a hearty and protein-packed base for soups, stews, or salads, or create delightful lentil burgers for a wholesome meal. Embrace the natural goodness of Thames Organic's Beluga Lentils and elevate your cooking with this wholesome and eco-conscious choice.
So why choose our Organic Beluga Lentils? Not only are they delicious and nutritious, they are also grown with care and respect for the environment. Whether you're looking to add more plant-based protein to your diet or simply want to try a new and tasty ingredient, our Organic Beluga Lentils are sure to become a pantry staple.
Organic Beluga Lentils are usually famous after the resemblance of caviar. It comes in a deep black tone and is less well-known than other lentil varieties. Its name refers to beluga caviar or lentil grains, which are very similar. Beluga is ideal as an addition to soups, stews, and salty snacks. It is grown in the dry climate of Canada and America's Northern Plains. Meanwhile, it's one of the exciting varieties of lentils.

These are grown in certified fields without the use of pesticides or agrochemicals. If we talk about appearance, lentils resemble one of the most expensive delicacies in the world.

Why Consider Organic Beluga Lentils?

Black lentils are almost as good as black caviar, as they bring some exceptional taste that delights with sophistication. Organic black beluga lentils refer to natural products, which do not contain any chemical additives. Here are its main features:

● It's a 100% natural, environmentally friendly product.
● It doesn't contain flavor enhancers and chemical additives.
● It has a rich flavor and is excellent for soups, side dishes, and soups.
● It is high in protein, fiber and rich in potassium.
● It has a remarkably unique taste and aroma.
● It differs from others in their original appearance, rich, spicy taste, and aroma.

The lentil (Lens culinaris or Lens esculenta) is an edible legume. It is an annual plant known for its lens-shaped seeds. It is about 40 cm (16 in) tall, and the seeds grow in pods, usually with two seeds in each. As a food crop, the majority of world production comes from Canada and India, producing 58% combined of the world total.

In cuisines of the Indian subcontinent, where lentils are a staple, split lentils (often with their hulls removed) known as daal are often cooked into a thick curry/gravy that is usually eaten with rice or rotis.
Beluga: black, bead-like, lens-shaped, almost spherical, named for resemblance to beluga caviar. Called Indianhead in Canada.