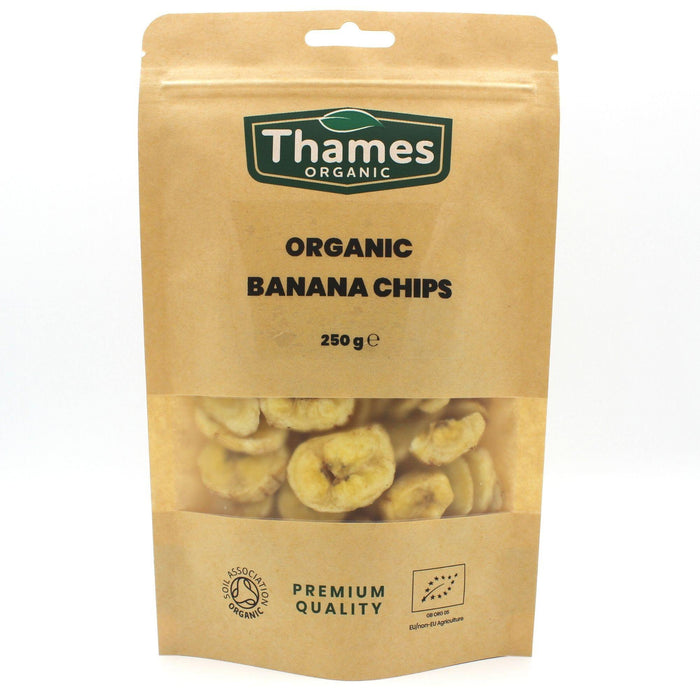 Organic Banana Chips
Original price
£3.99
-
Original price
£55.49
Organic Banana Chips are a delectable snack & sweet treat. Made from whole slices of the finest banana available that are dried to perfection to retain the natural sweetness and chewiness of the fruit.

Organic Banana Chips are a great snack for all occasions. Each chip contains 100% organic bananas and has been carefully dried to create the perfect crunch. Organic Banana Chips are a fantastic source of potassium, magnesium, and dietary fiber.
Discover Thames Organic's Organic Banana Chips – a versatile and delightful addition to your kitchen, perfect for a variety of culinary preferences. Whether you're a vegan, vegetarian, or follow a plant-based, specific dietary plan, these premium banana chips are a must-have. Sourced sustainably from the finest organic bananas, they offer a naturally sweet and crunchy flavor that enhances your favorite recipes. Use them as a wholesome snack on the go, or sprinkle them over yogurt, cereals, or salads for a delightful twist. Embrace the natural goodness of Thames Organic's Banana Chips and elevate your cooking with this wholesome and eco-conscious choice.

Organic Banana Chips are made from carefully selected bananas, collected at the right time of ripening. Banana chips are crispy treats ready to eat or a tasty addition to your next dessert or salad.

Organic Banana chips are a great-tasting healthy snack option as they are low in calories and loaded with nutrients. Organic Banana Chips are made from whole slices of the finest bananas available and have been gently dried to create a crispsnack that is ready-to-eat.

Organic Banana Chips is a well-known snack that is not only crispy, but packed with nutrients. Crunchy, organic banana chips. Good source of potassium. No cholesterol and high in fiber. Made from fresh organic bananas, they serve as a great-tasting snack for kids and adults of all ages.