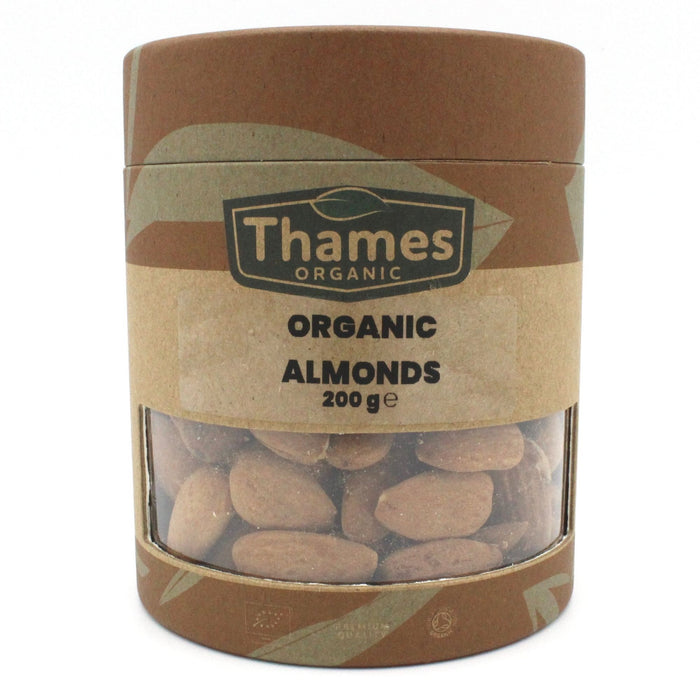 Organic Almonds-Box
Original price
£5.99
-
Original price
£14.99
Organic Almonds by Thames Organic Ltd. Organically grown in Spain and packed in the UK. Re-sealable bag to ensure continuous freshness. 
Thames Organic's Soil Association Licence number is DA30314.
Organic almonds are one of the healthiest nuts that's why it is often recommended for regular consumption or even as a snack. Perfectly loaded with nutrients and tasty. 

Nuts are good protein sources; that's why many people prefer to eat nuts in their daily diet. Almonds contain minerals (magnesium, zinc, and iron) and vitamins B and E, natural antioxidants. It is packed with vitamin E and antioxidants.

Why it is good to eat Organic Almonds?

Organic Almonds contain essential micronutrients that our bodies need to maintain health. The habit of eating almonds every day has a beneficial effect on health

● Consuming at least 30 grams of nuts such as almonds daily
● Certified organic products are free of toxic residues from chemicals, pesticides, fertilizers, or synthetic additives.
● They protect the health of the consumer, the farmer, and the environment.

Today, almonds are found in many products, its flavor and benefits speak for themselves, but organic almonds are delicious, sodium and cholesterol-free.

Organic Almonds are one of the most popular nuts in the world with their high calcium, magnesium, potassium and vitamin E levels. Calcium is essential for protecting bones. Potassium contributes to muscle functions. Magnesium contributes to the reduction of fatigue. Almonds are a great source of nutrients and are also great for baking or just snacking. You can carry organic almonds with you for snacks during the day, which helps you feel full for snacks..Homemade almond milk can be made by mixing it with water and straining with your creativity
Benefits of Organic Almonds
A natural source of protein

High in Potassium

High in Magnesium

High in Calcium

Rich in dietary fibre

Rich in vitamin E