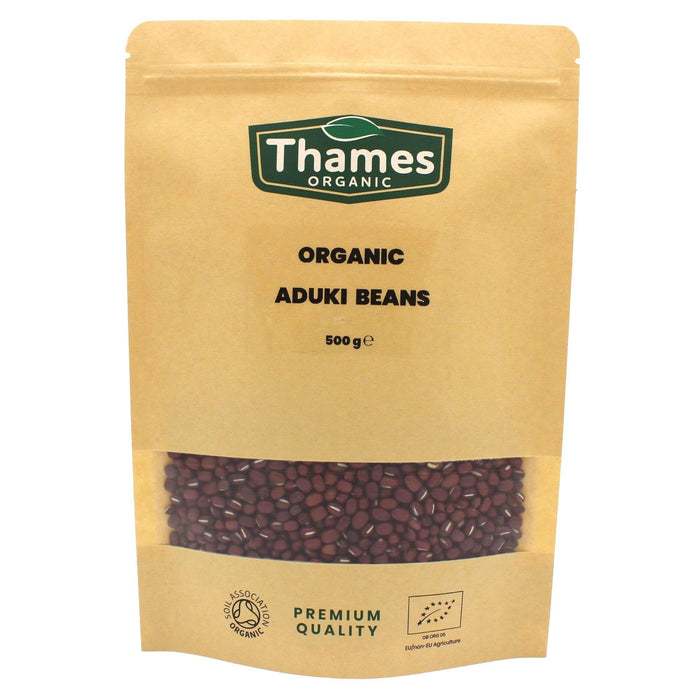 Organic Aduki Beans
Original price
£4.99
-
Original price
£6.99
Azuki is a Japanese name that translates as "little bean." Indeed, these beans are small in size and use as an ingredient in various casseroles or finely chopped salads. It contains trace elements, carbohydrates, proteins, amino acids, or fats.

If you want to add some fantastic food to your kitchen, Organic Aduki Beans is your great addition. Its nutty and sweet umami goodness is helpful to make soups, top-notch stews, or even savory dishes.

If you want to make some good desserts such as Chinese, Japanese, or even Far Eastern classics, Aduki beans is an excellent choice. It is considered one of the most delicious variety in the world, which has firmly entered the cuisine of all Asian countries. The beans were grown in environmentally friendly conditions, in compliance with all international production standards. Adzuki Beans are:

● Organic canned small red beans
● It has a delicate flavor that seems ideal for making a sauce for the rice.
● Cook within a few minutes.
● Ideal for the traditional food lover.
● Small in size

Globalization has made it possible for Europeans to taste this culture for those who appreciated Azuki beans. Hardly 40 minutes are required to cook Organic Aduki Beans without soaking, and the dish is ready.

Organic Aduki Bean by Thames Organic Ltd. Organically grown in China. Packed in the UK.
Thames Organic UK is Soil Association Certificated with a License no : DA30314
Discover Thames Organic's Organic Aduki Beans – a versatile and delightful addition to your kitchen, perfect for a variety of culinary preferences. Whether you're a vegan, vegetarian, or follow a plant-based, specific dietary plan, these premium aduki beans are a must-have. Sourced sustainably from the finest organic crops, they offer a slightly sweet and nutty flavor that enhances your favorite recipes. Use them as a protein-rich and nutritious base for soups, stews, or salads, or create delightful aduki bean burgers for a wholesome and satisfying meal. Embrace the natural goodness of Thames Organic's Aduki Beans and elevate your cooking with this wholesome and eco-conscious choice.
Organic Aduki Bean is an ancient herb, wild forms of the plant come from Japan and have been cultivated in Japan for over 6000 years. Aduki Beans are versatile, they can be boiled until the beans are soft and used in both savory and sweet dishes. Like all dried beans, soaking Adzuki Beans overnight is a good idea to shorten the time it takes to cook them and help flush out bloating-causing compounds. Once soft, the beans can be cooked in a small amount of flavored water and mashed to make red bean paste that is used as a filling in Asian pastry products and sweetening desserts. Cooked beans are a good source of protein and can be used in curries and stews, add them towards the end of cooking, otherwise, the beans will become mushy and crumble. It is a rich source of Iron, Magnesium, Phosphorus, Potassium, and Zinc minerals as well as vitamin B1, B5, and B9.
Organic adzuki beans are small red legumes grown on climbing bean plants. Aduki beans, native to East Asia, are small, reddish-brown legumes that are commonly used in traditional Chinese and Japanese cuisine.
Organic aduki beans, also known as azuki or adzuki beans, are small, compact red beans with a slightly sweet flavour. They are easy to digest and can be used in a variety of cuisines.
Organic adzuki beans are whole, dried legumes that are grown on row crops. They have a nutty flavour and a tender, creamy texture, making them a good meat substitute in vegan and vegetarian dishes such as soups, stews, casseroles, and salads. They can also be used in some desserts.