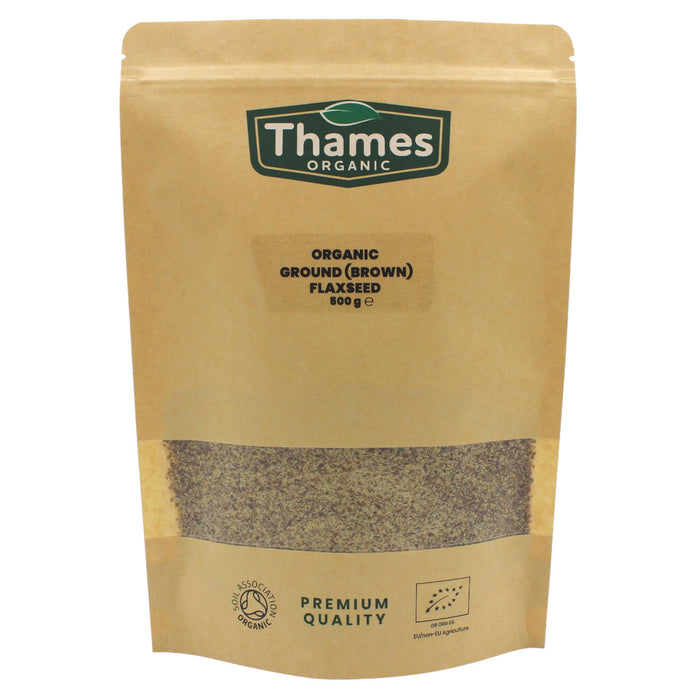 Organic Ground Flaxseed | Linseed
Organic Ground Linseed by Thames Organic Ltd. Organically grown in Kazakhstan. Packed in the UK. 
Allergen Information: Packed on premises that handles nuts, seeds, cereals, soya & products containing gluten. 
Thames Organic's products are certified as organic by the UK's Soil Association 
(Soil Association licence no. DA30314)
Description:
The linseed also known as flax seeds, which has been consumed for thousands of years, is among the first agricultural products in the world. It is an absolutely awesome source of fibre, protein and healthy fats. and contains high levels of omega-3, omega-6 and omega-9 acids. Omega fat acids, which have an extremely important place in terms of health, cannot be synthesized by our body and must be taken externally. Linseed has a high content of soluble and insoluble fiber, protein, lignans, vitamins, minerals and amino acids. They're perfect for adding to your morning oats or smoothie, using in home baking and mixing into desserts. However one of their best uses is as a vegan-friendly egg replacement when mixed with warm water.
Benefits of Ground Linseed
Full of fibre

Packed with protein 

Awesome source of healthy fats 

Suitable for Vegans and Vegetarians.
Savour the versatility of Thames Organic's Organic Ground Flaxseed. Sustainably grown in the UK, our flaxseed (linseed) is a brilliant addition to your pantry, fitting effortlessly into vegan, vegetarian, paleo, ketogenic, raw, flexitarian, or Mediterranean diets. Packed with plant-based protein and omega-3 fatty acids, it's ideal for everything from morning smoothies to hearty dinner dishes. Thames Organic's ground flaxseed offers you a flavourful, organic choice to keep your meals diverse and your diet on track, whatever path you choose. Experience the natural goodness today.