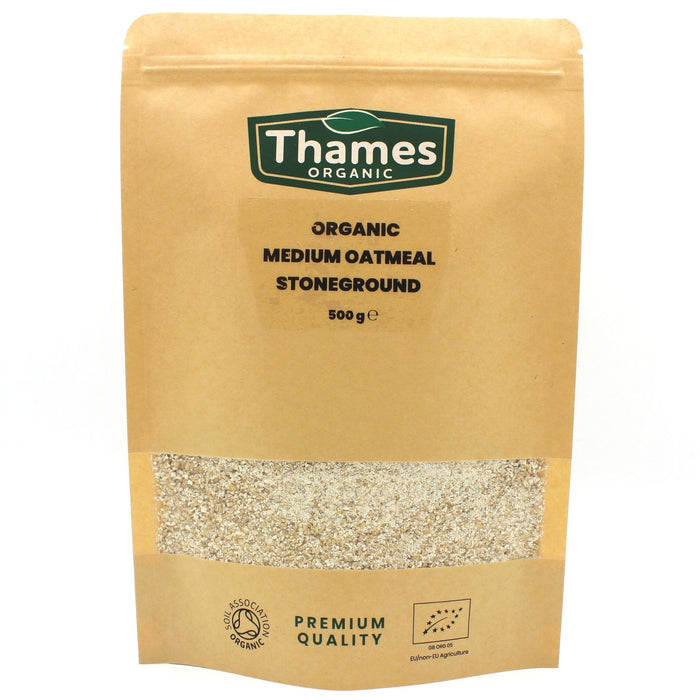 Organic Medium Oatmeal Stoneground
Original price
£3.49
-
Original price
£4.49
Introducing the ultimate grain - organic medium oatmeal stoneground! This nutritious and versatile grain is a traditional and delicious addition to any meal and is packed with a variety of essential nutrients.
Oatmeal has a long history of use as a staple food, dating back to ancient times in Scotland and Ireland. It was traditionally made by grinding oats between two stones, a process known as stonegrounding, which results in a more natural and flavorful product. Today, oatmeal is still widely enjoyed as a nutritious and tasty breakfast option, as well as a versatile ingredient in a variety of dishes.
Our organic medium oatmeal stoneground is made from 100% organic oats that are grown sustainably and ethically on eco-friendly farms. No synthetic pesticides or fertilizers are used in the growing process, making our oatmeal not only good for your body, but also good for the environment.
Our organic medium oatmeal stoneground is made using a traditional stonegrounding process, resulting in a more natural and flavorful product. It is a good source of fiber, protein, and a variety of essential vitamins and minerals. It is also naturally low in fat and calories, making it a nutritious and tasty addition to any diet.
Discover Thames Organic's Organic Medium Oatmeal Stoneground – a versatile and delightful addition to your kitchen, perfect for a variety of culinary preferences. Whether you're a vegan, vegetarian, or follow a plant-based, specific dietary plan, this premium medium oatmeal is a must-have. Sourced sustainably from the finest organic oats, they offer a hearty and nutty flavor that enhances your favorite recipes. Use them as a nutritious and filling base for porridge, overnight oats, or homemade granola, or incorporate them into baking for added wholesome goodness. Embrace the natural goodness of Thames Organic's Medium Oatmeal Stoneground and elevate your cooking with this wholesome and eco-conscious choice.
Our organic medium oatmeal stoneground comes in a convenient and easy-to-use resealable pouch, making it easy to keep the grain fresh and easily accessible for all your cooking needs. Simply add it to your favorite recipes or use it to make a delicious and nutritious breakfast oatmeal. It can also be used in a variety of dishes, including breads, muffins, and granolas.
So why wait? Start incorporating this delicious and nutritious organic medium oatmeal stoneground into your meals and snacks today and experience the numerous benefits for yourself!
Oatmeal refers to a preparation of oats that have been dehusked, steamed and flattened, or else a coarse flour made of hulled oat grains (groats) that have either been milled (ground) or steel-cut. Ground oats are also called "white oats". Steel-cut oats are known as "coarse oatmeal", "Irish oatmeal" or "pinhead oats". Rolled oats were traditionally thick "old-fashioned oats", but can be made thinner or smaller, and may be categorized as "quick" or "instant", depending on the cooking time, which is shortened by the size of the oats and precooking.
Organic Medium Oatmeal Stoneground is a good source of protein, fibre, iron and potassium. It's also very easy to digest, making it perfect for all ages. Simply cook it on the stove, or just add boiling water. Delicious oat milk can also be made using cooked oatmeal.
Organic Medium Oatmeal Stoneground has a rich and hearty texture; their satisfying flavour, combined with sweetener and fruit, makes a nutritious and delicious breakfast – or snack – that will keep you full right up until dinner. You can even add them to smoothies, baked goods or your favourite breakfast parfaits.
While our Organic Medium Oatmeal Stoneground is great for making oatmeal, it's also delicious when used in baked goods.