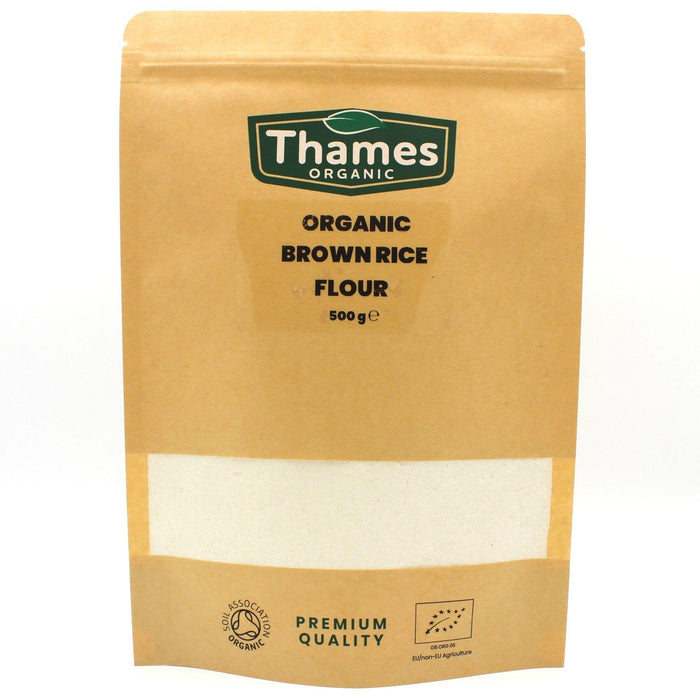 Rice flour (also rice powder) is a form of flour made from finely milled rice. It is distinct from rice starch, which is usually produced by steeping rice in lye. Rice flour is a common substitute for wheat flour. It is also used as a thickening agent in recipes that are refrigerated or frozen since it inhibits liquid separation.
Rice flour may be made from either white rice or brown rice. To make the flour, the husk of rice or paddy is removed and raw rice is obtained, which is then ground to flour.
When made with brown rice with only the inedible outer hull removed, it is called brown rice flour.
Discover Thames Organic's Organic Brown Rice Flour – a versatile and delightful addition to your kitchen, perfect for a variety of culinary preferences. Whether you're a vegan, vegetarian, or follow a plant-based, paleo, or specific dietary plan, this premium brown rice flour is a must-have. Sourced sustainably from the finest organic brown rice, it offers a subtly nutty flavor and a delightful texture that enhances your favorite recipes. Use it to create fluffy pancakes, savory sauces, or baked goods with a wholesome touch. Embrace the natural goodness of Thames Organic's Brown Rice Flour and elevate your cooking with this wholesome and eco-conscious choice.
Organic Brown Rice Flour is created by milling high quality brown rice. It is 100% whole grain with all the nutrients of brown rice still intact, including the fiber and bran. Extremely versatile as an alternative to wheat flour, it is particularly enjoyed for the rich, nutty flavor it imparts to baked goods.
Organic Brown Rice Flour is a good source of essential minerals, vitamins and natural fiber. This flour is ideal for baking bread, cakes, muffins, cookies and other treats or as a thickener in soups and sauces..